Small Blown Glass Bowl: Red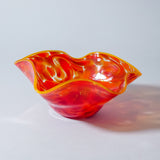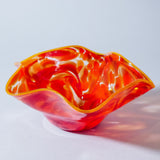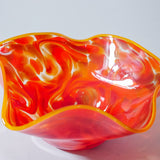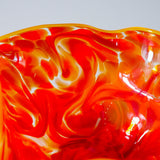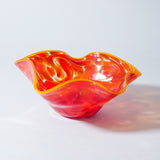 Description
Hand made blown glass bowl in red with some orange as well, and an orange rim makes the perfect candy dish, bowl for nick-knacks, or handsome decoration. These bowls capture the fluid movements of molten glass.
Dress your table for any occasion with functional art. These glass bowls are made at our glassblowing studio, Art by Fire, in historic Issaquah, Washington. All our art is lovingly made by our small team of glassblowers using hand-tools and techniques passed on for centuries in the glassblowing tradition.
This listing is for 1 small glass bowl. Our glass bowls all have fluted edges and since each is hand made no two are alike, so yours may vary slightly from the one in the photo. If you order more than one they will vary slightly from each other. These bowls will measure about 3 to 3.5 inches tall and 5.5 to 6 inches in diameter.
Free Domestic Shipping. Click here for details.